I recently read a study about comfort food and stress eating.
Men eat their favorite comfort foods to celebrate.  And the edible indulgences further raise an already elevated mood.
Yay men.
Women crave comfort foods as remedy to the stress and gloom of bad days.
The result speaks to the tragically disordered thinking many women have about food.  That attempt to eat our way to serenity?
Yeah, not so much.  Rather than succor, we're left with feelings of guilt.
So women, instead of thinking of food as an antidote, let's think of it as neutral; neither magical nor evil.  Healthful food that we need, and occasionally, some well-deserved, mindful indulgences.  Let's take a page from men, with their uncomplicated, rational view of food.  It's not our adversary, it's not out to get us—it's just food.
Last month while judging at the King Arthur flour contest, I was lucky enough to sample one of the best bites, and possibly the very best pie I've ever been lucky enough to taste.  It springs from the confectionary mind of Melissa Bentley, of Zebulon, and recipient of my sweet tooth's eternal gratitude.
Cookie Dough Cream Pie
For Pie Crust:
1 ¼ cups white sugar
2/3 cup King Arthur all-purpose flour
¾ cup unsweetened cocoa powder
1 pinch salt
½ cup butter, melted
Cookie Dough:
1 ¼ cups King Arthur all-purpose flour
½ tsp. salt
¼ tsp. baking soda
½ cup (1 stick) butter, room temperature
¼ plus 2 Tbsp. cup granulated sugar
¼ plus 2 Tbsp. cup packed brown sugar
½ tsp. vanilla
2 ½ Tbsp. milk
½ cup mini semi-sweet chocolate chips
For Filling:
¾ cups light brown sugar
1/3 cup King Arthur all-purpose flour
¼ tsp. salt
2 cups whole milk
3 egg yolks
1 Tbsp. unsalted butter
1 tsp. vanilla extract
Topping:
1 cup heavy cream
3 Tbsp. sugar
½ tsp. vanilla
Preheat oven to 325.
Whisk sugar, flour, cocoa powder, and salt together in a bowl until thoroughly combined. Pour melted butter into the mixture and stir to incorporate. Press dough into the bottom and up the sides of a 9-inch pie pan. Bake crust in preheated oven until the sides are firm and the bottom bubbles slightly, about 10 minutes.
To prepare cookie dough, beat butter and sugars and in large bowl with electric mixer on medium speed until light and fluffy. Add milk and vanilla. Mix in flour, baking soda and salt and mix on low speed until incorporated. Stir in chocolate chips. Using some of the dough, make 8 small balls. Place on a baking sheet. Bake at 350 for 7-9 minutes or until edges are lightly golden. Allow to cool for a few minutes, then transfer to a wire rack to cool completely. Reserve remaining dough.
In a medium saucepan, mix sugar, flour and salt. Stir in 1 cup of milk, mix until smooth, and bring to a boil over medium heat, stirring constantly. Continue to stir until smooth and thickened, about 2 minutes, then remove from heat.
Beat the egg yolks with the remaining cup of milk. Temper the egg mixture with a small amount of the slightly cooled milk mixture then blend this into the larger saucepan with the cooling milk mixture.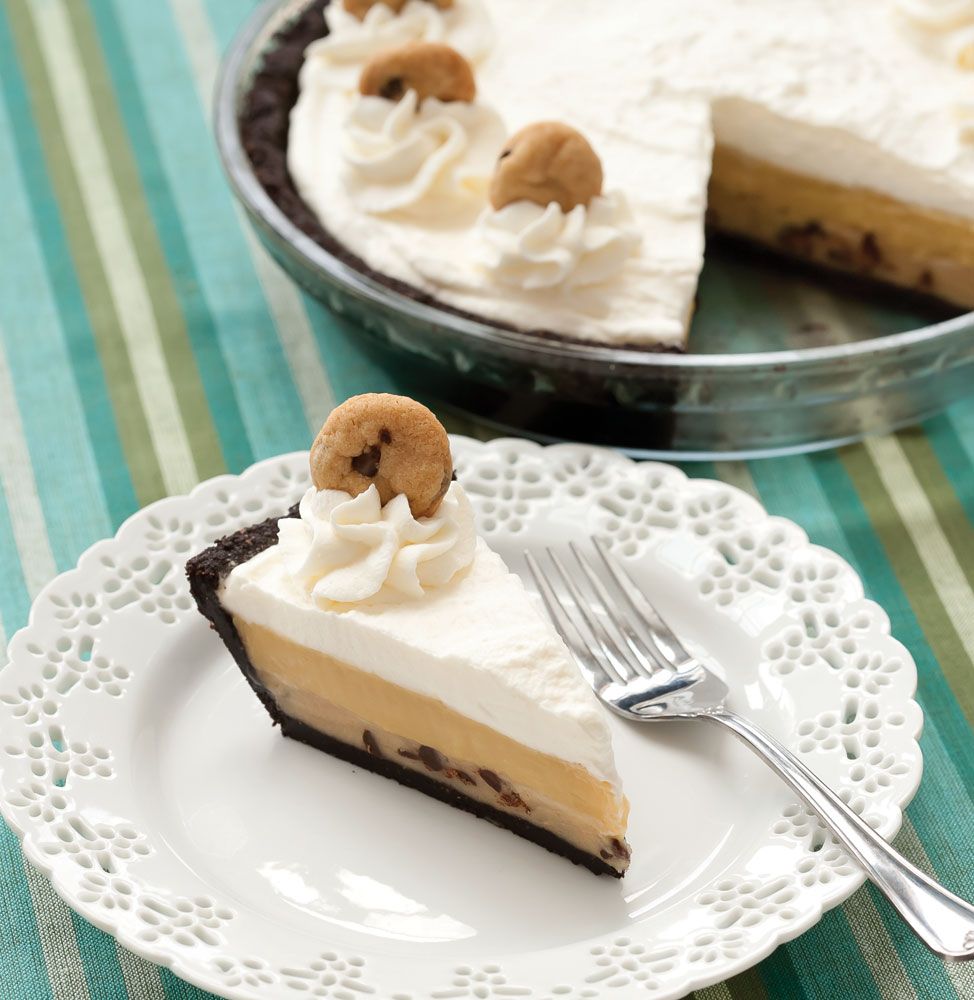 They sell tubs of chocolate chip cookie dough made safe by the removal of the eggs.  It's meant to be eaten raw.
But, this pie.
It's a gorgeous holiday dessert.  And a saner, much less embarrassing version of sitting on the kitchen floor in the middle of the night, eating spoons full of cookie dough by the light of the fridge.
Thanks for your time.