It would be really easy for me to give you the polite, for-company explanation; "Petey worked 7P-7A for so many years, it reset our circadian rhythms.
But, despite the fact that it may pinch, or embarrass, or make me sad, I always endeavor to tell you, Gentle Reader, the truth.  So, here's the dog-honest truth.
From the day I was born (in the late afternoon, I might add), mornings and I have had a sincerely adversarial relationship.  1AM is the shank of the evening, and my morning does not comfortably start until at least 12-1PM.
Growing up, it drove my folks around the bend trying to get me out of bed for school.  When The Kid was in school I bemoaned the absolute lack of night school for second-graders.
It's just how I'm built.  I worked 7A-3P in a hospital lab for a year.  People told me that after a while, I'd get used to it and become a morning person.  I hated and dreaded every single day of it.
Every.Single.Day.
Luckily, Petey has a matching loose screw.  We actually take turns getting up early (for us); first with our child, and now with our dog.
And, I usually eat a little something upon rising.  But, I'm not sure what to call it.
By the time I get up, walk the dog, take care of a few things, I sit down with a light meal somewhere north of 2PM.  So, is it breakfast? Brunch? Lunch? Is it dunch (dinner/lunch)?
Breakfast for dinner, though, I have no problem naming.  Heck, I love breakfast for dinner so much, I'd happily call it Fred.
Fred's a wonderful meal.  It's easy to cook; because every item's normally one cooking technique.  And there's a lot of stove-top cooking, which keeps you close so that you're forced to keep an eye on things. 
So, here are a few tips and methods that will make your breakfast for dinner a treat, and not a penance.
1.) For scrambled eggs; use a blender so there's no weird white stuff.  Use a tablespoon of butter for every two eggs.  Season the eggs right after they go in the pan.  Stir constantly, cook quickly, and keep them a little wetter than you want to eat them, as they'll continue to cook on the plate.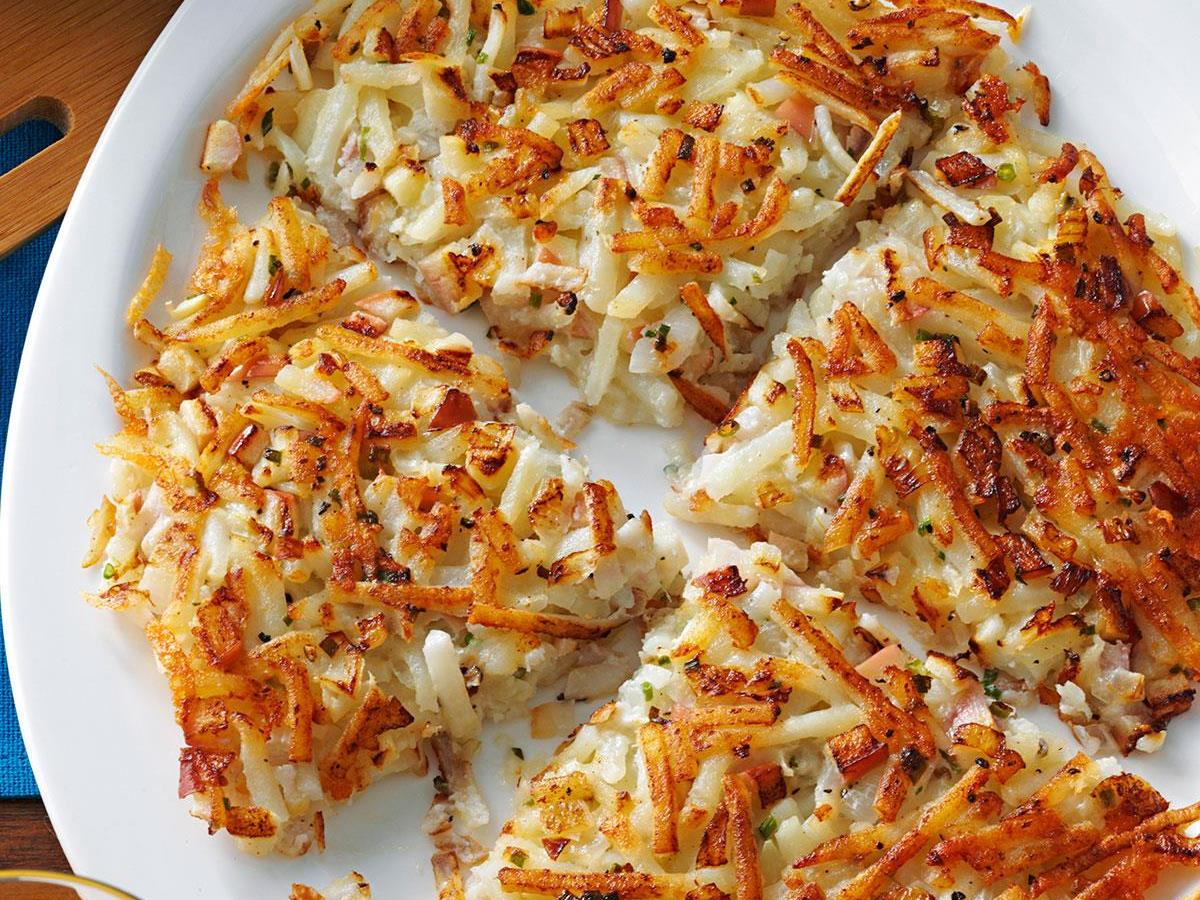 2.) Hash browns; melt butter in a skillet, then toss shredded potatoes and onions in butter to coat.  Cook in a flat cake, flip when browned, and cook on the other side.  At a stove-top setting of 3.5-4, they should take about 15-20 minutes to cook.
3.) If you have some not-so-fresh biscuits or scones, melt butter in a pan, place in biscuits, cover, lower temp to 3 or so, and cook for just a couple minutes.  This will heat it through and crisp one side.  Remove cover, add more butter to pan, then flip and crisp on the other side.
4.) If you take nothing else from this epistle, clean up as you go along.  Breakfast can make a mess of your kitchen.  Keep your counters cleared and wiped.  Throw food waste in the compost or trash can right away, not the sink—that stops the quick rinsing and washing up that will save your sanity. Get your prep work done and cleaned up before cooking anything.  Set your table and have beverages and condiments ready.  If you use a dishwasher, have it empty and ready to receive the oncoming storm.
So, call it breakfast for dinner, call it Fred, call it Agent Colson, just don't forget to call me when it's on the menu.
Thanks for your time.