Growing up my dad was in the Coast Guard, and we moved every few years.  Some places I liked, some not so much.
But thirty years ago, a young couple moved to the Bull City.  And like kudzu, Durham has crept through me and wound itself about my heart.  This town is funky, fierce, and fabulous.  And I wouldn't live anywhere else in the world.
Saturday I had lunch with two high school friends, Lucy, and newlywed Maxie.  We try to set everything else in our lives aside once a month, and meet.
This week was Lucy's pick.  She chose Dame's Chicken and Waffles (317 W Main St, Durham).  Fun fact: contrary to my assumption, Dame is not a woman,.  It's actually the nickname of owner, Damion Moore.  Another fact: they are always swamped.  The wait for a table on a Saturday afternoon was an hour and forty-five minutes.   You can make a reservation online.  Do it.
It was the first visit for all of us, so we each ordered something different to get a bigger sample of the menu.
Here is my biggest takeaway.  Somehow, it was as if they had turned the flavor volume up to 11.  The taste of everything was bright and vivid.  I had macaroni and cheese, which was some of the best I've ever eaten.  I could actually taste the pasta; it wasn't just the scaffolding supporting all the yummy cheese.  The chicken (Lucy and I had fried breast cutlets, Maxie had fried legs) was moist, deliciously crunchy, and tasted like chicken—it wasn't just texture.
The waffles were really good—crispy on the outside, soft and tender inside.  And each plate came with something they call a schmear.
A schmear is Dame's take on compound butter.  Here again, the flavors somehow seemed cleaner, brighter and stronger without being overwhelming.  I had almond vanilla, Lucy orange honeycomb, and Maxie had maple pecan.  There was no mistaking any of them.  Each was a delicious example of the respective flavors.
I begged Ms. Ella, who runs the kitchen, for recipes.  No dice.  I even got shot down when I asked which herb was used in the chicken and macaroni and cheese.  Still no dice.  But I really like the idea of the schmear, so I came up with my own, Dame-inspired butter.
Pistachio/Honey browned butter spread
2 sticks of butter
4 tablespoons finely chopped pistachios
3 tablespoons strongly flavored honey (like buckwheat)
Pinch salt and pepper
Melt butter in a saucepan, and let cook until it's foamy and starts to brown.  When the solids are a warm caramel brown, take it off the heat and stir in the honey.  Pour into a bowl and let cool and harden.
When the browned butter has gotten to room temp, place into the bowl of a mixer.  Beat the butter, adding the pistachios.  When the butter is fully incorporated either place in a bowl and refrigerate or place onto parchment paper and roll into a log and chill.
Make about 1 ¼ cups.  Use on breakfast carbs, or melt a tablespoon onto a grilled piece of chicken or a pork chop.
After lunch we hauled our over-stuffed, bloated carcasses down the street.  We stopped at Letters Bookshop (313 W Main St).  We each picked up a couple of books, and wanted more.
We then turned to Dolly's Vintage (213 W Main St), a fun, colorful, whimsical shop full of adorable, affordable second-hand clothing and quirky new items, including a large selection of Durham merchandise.
We then walked around the corner and ended our day together at The Cupcake Bar (101 E Chapel Hill St).  I love this place.  They have 300 hundred flavors and 75 cent frosting shots, for dog's sake.  I went home with chocolate stout, Irish coffee, and double vanilla minis.  And of course, as always, they were scrumptious.
Five Points was fun and busy, just what a downtown should be.  It made my heart full to be a part of it.  And girl, those folks were turned out.  I saw more cute sweaters, adorable boots, and fashionable outfits than an issue of Vogue.  They were representing Durham right.
Gosh, I love this town.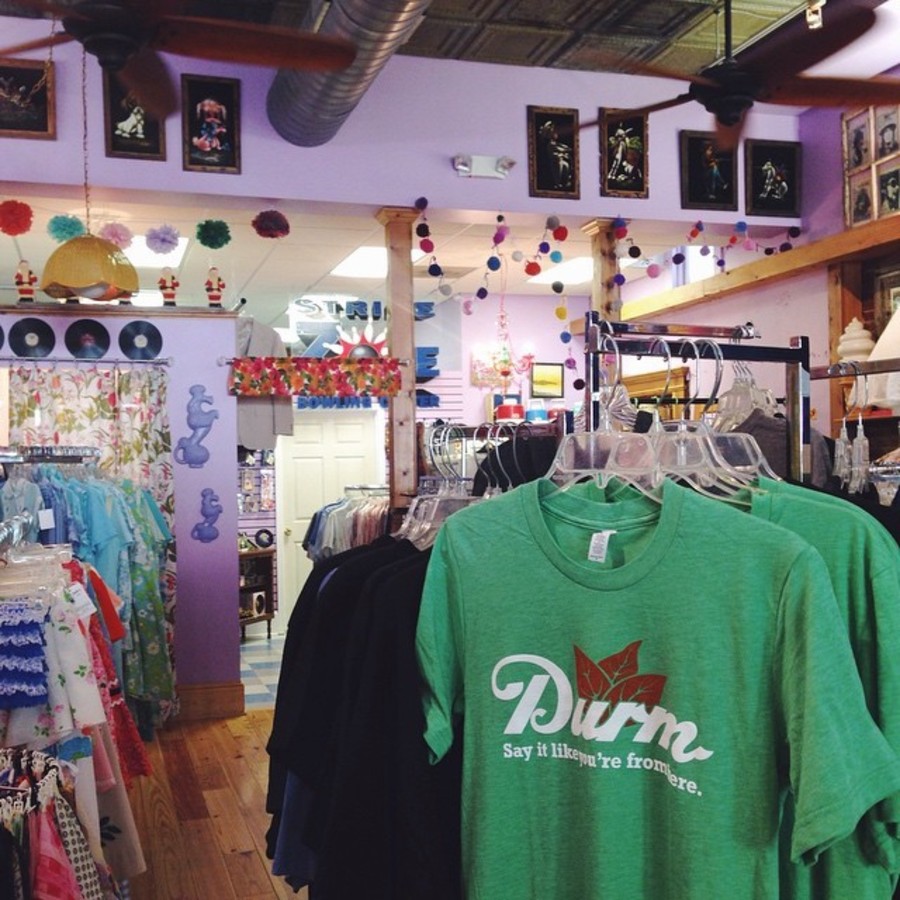 Thanks for your time.