My brilliant idea kind of all started when I inadvertently found a new treat for my Whirlpool-sized pooch, Crowley.
I'm a sucker for the word "Clearance".  Honestly, I'd buy a case of the bubonic plague if it had a big yellow sticker and was marked down 90%.  I've actually found items this way that have become pantry staples (sunflower butter), and other items that I'd give one of my kidneys to find again (Oh, Mrs. Thinster's Salted Caramel Cookie Thins, where are you?).
So anyway, I eat tons of dried fruit, and found some peaches on a huge markdown.  I eat the chewy kind of dried fruit, but these were of the freeze-dried persuasion.
Most dried fruit is dried by the sun or mechanical means, but with enough moisture left to make it sticky and pliable—think raisins or prunes.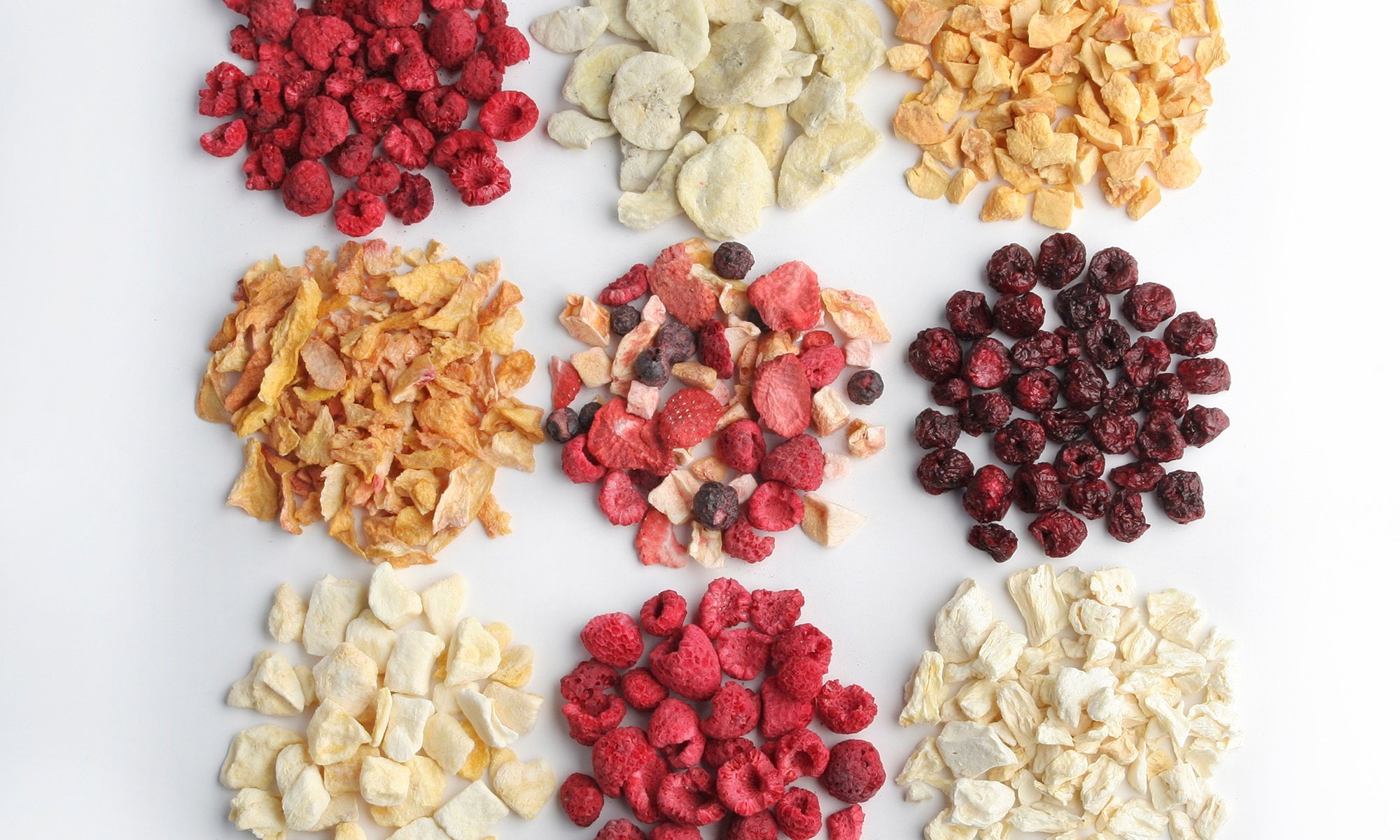 On the other hand, freeze-dried fruit is completely desiccated.  The process is known as lyophilization.  Think the crispy, crumbly Styrofoam-like food sold in camping and survival stores and used by NASA and the military.  What I had scored on the sale shelf was freeze-dried peaches.
When I bought them, I figured I'd eat them as little sweet snacks, like candy.  I like peaches.  But the flavor of these peaches shocked me.  I knew they were freeze-dried, I knew that meant that as the ice was drawn off the intensity of their "peach-ness" was magnified; but it must have been by about a million.
They were like the taste of every peach I'd ever eaten.  Every can of fruit cocktail, every bowl of cobbler, every Hostess fruit pie had combined to create this huge peach punch to my taste buds.  One bite was my limit.
Thus, Crowley's new treat—he loves them, in all their peachy glory.
Then I saw a recipe for blueberry meringue.  Meringue is a chemical, physical reaction that doesn't leave room for fiddling.  Add any type of fat, including egg yolk, and the whole shebang will probably never come together.  Add too much liquid, and you get bupkis.  You even need to be careful not to overdo it when adding extract or food coloring.
So, for blueberry flavor, the genius who came up with this recipe used dried blueberries!
Which is brilliant, because you get buckets of taste and also as a bonus, it becomes a gorgeous heliotrope color.
Yesterday I made one of my strawberry cakes for a friend's Easter dinner.  After all this freeze-dried fun, I decided to conduct an experiment. 
Instead of plain jam added to the frosting, I added only two tablespoons of jam, and also a couple tablespoons of finely crushed strawberries.  It lowered the amount of liquid I needed to use, and made the frosting less likely to get soft and run if the cake was in a warm environment.  I also added a couple tablespoons of the crushed berries to the cake crumbs that I pressed into the sides of the cake.  This turned the crumbs a really pretty, springy shade of pink; almost Barbie-ville.
The success of the strawberry cake got me thinking about what else could freeze-dried fruit do.
Compound butter.  Last week I talked about flavored butter and encouraged imagination and experimentation.  So, imagine making a fruit compound butter.  What about apples and cinnamon?  For those of you with death defying taste buds, how about habañero/mango?  Here's one:  An Elvis; freeze-dried bananas, finely chopped peanuts, and crushed crispy bacon.
I am no food genius and not the first person to come up with this idea.  I'm more of a village idiot who discovered something really cool, but also the town crier who's telling you about it.
Thanks for your time.