When is a convertible not a convertible?
When it's the fresh crusty loaf of bread with cloud-like interior that the French call a baguette.  The most French of breads that actually has laws defining what is in the dough.
One might think that when prehistoric French painters wandered out of the Chauvet and Lascaux caves for lunch, they dined on baguettes and wooly mammoth nuggets.
But, one would be wrong.
Baguettes are the relatively recent sum of experience, ingredients and technology of the baking world.  There wasn't even a bread officially called "baguette" (meaning wand or stick in French) until the early 20th century.
Fortunately, even though there are laws about baguettes, as far as I know, none of them prohibit us non-French rubes from enjoying them.  And, unlike your average loaf of Sunbeam, baguettes are sublime at every stage, from fresh out of the oven to old, hard and stale (just not furry—that's no good for anybody).
Thus, the convertible-ness.
So fresh it's still warm: break off a hunk, and smear it with a big scoop of runny, buttery brie.  You eat enough of this and you will acquire a French accent.  You'll also acquire a butt so big that you need two seats at the movies, but that's a whole other conversation.
Super fresh but room temperature: sharing a large piece with a friend on a veranda with butter, strawberry jam, and coffee (French press, of course) or thick creamy hot chocolate.  On this side of the Atlantic, the very best place to do this is Caffe Driade, in Chapel Hill.  Honest, it is one of the few supreme joys in this life that cost less than $20.
Same day freshness: the jambon-beurre; a modest amount of very good butter, preferably from Brittany or Normandy, and thinly sliced top shelf ham.  Chef Vatinet, owner of Cary's La Farm is a Gallic rebel who adds gruyere to his version.  It's so delicious the not quite authentic recipe is not only forgiven, it's welcome.
The days following baking have its own tasty gifts.
The simple: sliced into rounds painted with a bit of olive oil, seasoned and baked at 350 for 15-20 minutes, and you have crostini, a much more urbane vessel for dips and spreads than potato and corn chips. If you cut the bread into cubes, and toast them in a skillet with oil, herbs and salt and pepper you have croutons that will make you wonder why you ever bought those sawdust squares in the bag.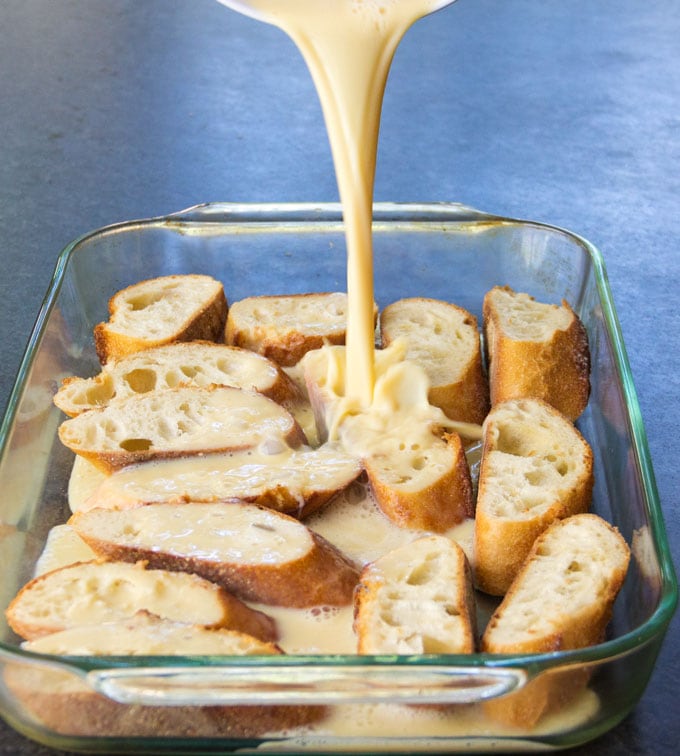 And one of the greatest uses for any bread: pain perdu.  What a North Carolinian calls French toast, a resident of the Loire Valley calls, "lost bread".  You make a custard with eggs and milk, flavor with brown sugar, vanilla, fresh nutmeg, and a pinch of salt.  Heat the oven to 375 and melt a dollop of butter in a skillet while you soak both sides of 1&1/2" slices in the custard.  When the butter's foamy, cook the slices on both sides until golden. 
As they finish, lay them on a sheet pan you've fitted with a cooling rack.  When they're all ready, bake in the oven until puffed and the custard's cooked through, about 5-7 minutes.  Dress and devour.
If you have a baguette, and can't get to it while it's fresh, freeze it.  When you're ready, dampen the entire loaf, and cook in a 350-degree oven for 13 minutes.  Right before you put in the loaf, splash ½ cup of cold water into oven to bring up a burst of steam.  It will come out as fresh and crusty as day one, I promise.
Merci pour votre temps.