It will come as no surprise to a student of the human mind, or frankly, anybody with a lick of sense, my view of Christmas was informed by the first one I remember.
It is a saccharine, nostalgic, romanticized vision of the holiday.
That earliest Christmas memory, when I was five or six, was spent on the couch.  I had pneumonia, and just enough energy to observe.  My holiday was whatever went on around me.  I had a Disney Christmas anthology book and many seasonal Little Golden Books, including my favorite, "The Night Before Christmas".
I watched all the Rankin/Bass shows of Santa, Frosty, Rudolph, and the Island of Misfit Toys.  And of course, Charlie Brown's Christmas.  The Peanuts gave me an appreciation for jazz, in the form of the Vince Guaraldi Trio, and the beautiful, majestic Shakespearian language of the King James version of the nativity.
In 1973 I was nine, and it was all about my brother Homer's wedding.  He was marrying Kelly, a very sweet young woman.  Mom told me she'd sew my outfit for the wedding and it could be whatever I wanted.  She probably regretted that promise when she found herself stitching together a purple velvet skirt and vest, with a coordinating lavender frilly-fronted shirt.
I looked like a cross between a Vegas pit boss and a Victorian couch.
In 1975 we were in in Puerto Rico.  Most gifts were shipped in.  To place a catalog order, one had to fill out a complicated order form and calculate price and fees.  Then write out a paper check, and mail the whole thing in.  Once Mr. Sears and Mr. Roebuck received it and the check cleared, a box would be packed and shipped.
Mom was panicked because the order she'd placed in mid-September for my gifts hadn't yet arrived.  My little brother's presents had been received and wrapped weeks ago.  I knew nothing of this drama.
After unwrapping a spectacular haul, heavy on Barbie and Donnie Osmond, (the original catalog order had finally come), I was about to start opening each box and removing the dolls from their twisty-tie manacles.  Then I planned to dress them in their new duds and have a fashion show.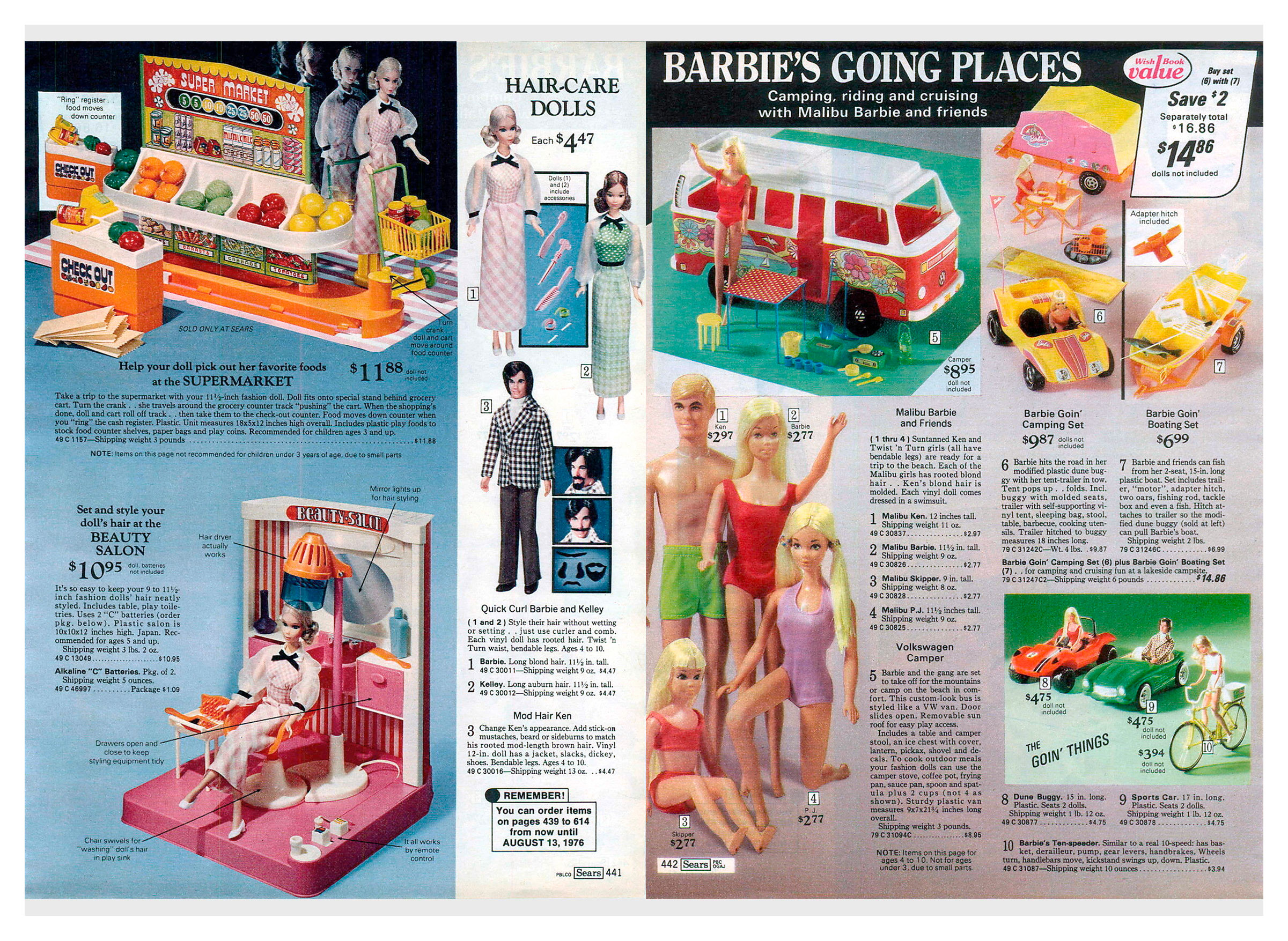 Until my dad asked me to go into the kitchen and fetch him a cup of coffee.  I was more than a little grumpy.  C'mon, I had just opened my gifts!
I'd poured the coffee and turned around before I saw the true motive for Dad's errand.
A glorious dayglo orange 10-speed bike!  For me!  Convinced the presents would never arrive, she and Dad had gone to the base exchange and bought me a beautiful new pair of wheels.
Later I proudly wheeled it outside for a ride.  Along with twenty or thirty other kids.  It seems the exchange had received a huge shipment of one particular model of cantaloupe-hued 10-speeds.  That day a horde of tween Mongols mounted on tangerine bicycles was released upon the streets.  We traveled in packs as wobbly as new-born colts on our brand-new, slightly too-big bikes.
But it was that 1960s holiday convalescence on the sofa which deeply and irrevocably set a reindeer on rooftop, joyfully over-decorated, scary fruitcake, white Christmas in my heart.
It made my expectations high, but my standards low.  In my head is a Currier and Ives print set to the dulcet tones of Johnny Mathis.  But to make me think, "Best Christmas ever!", all I need is the sound of bells, a glimpse of ribbon and tinsel, a few thousand Christmas carols on a playlist, and the pure crystalline happiness when passersby smile back.
The Kid calls this annual lunacy my Chistma-thusiasm.
Thanks for your time.