On breaks, The Kid brought all kind of things home from college.
There were the mountains of dirty laundry.   Binders full of bills.  Sometimes, exotic Vermont ailments, which were then introduced into the Matthews family petri dish.  Occasionally books I "absolutely had to read", or movies and TV shows that I "absolutely had to see".
But, The Kid was attending culinary school up there.
So, a lot of the stuff brought south had to do with food—new recipes, new ideas. The first one was simple.  Almost too simple.
Salads.  Before, whenever I'd made a dinner salad, it was a huge, hairy production.  Special trips to the grocery for bags of greens, vegetables sliced just so, eggs or another protein I needed to prepare, and freshly made dressing, usually ranch.
As a consequence, we only had salads every couple of months, and in between there would usually be a couple of times where I purchased greens and mushrooms for salad but then something would come up and a week later I'd end up face to face with slimy malodorous lettuces and 'shrooms that had a decidedly gangrenous quality.
The Kid, however, advocated a much more casual, spontaneous approach.  This included buying a row boat-sized container of mixed greens from Costco or BJ's, a log of goat cheese, and some ready-to-go protein to toss into the mix (I butter-toast and salt a couple pounds of pecans every few months and mix them with dried fruit.  It keeps in the fridge for weeks).  It's dressed with a bottle of ready-made dressing; I love Trader Joe's balsamic.
No stress, no prepping,  a salad at a moment's notice.  It increased my salad consumption ten-fold.
Then there was the time my very own shine-hauling mini Richard Petty pulled into our driveway with six or seven cases of homemade pomegranate mead.  Transporting this quantity happens to be a felony in most of the states driven through on the way home.
But it was burrata to which The Kid introduced me that brings us back around to my visit to Raleigh's Whiskey Kitchen.
Burrata is basically a mozzarella balloon, filled with whole milk ricotta cheese.  This ricotta in no way resembles cottage cheese.  It's luscious, luxurious, and when spilling out of a sack made from cheese, miraculous. 
The mad scientists at Whiskey Kitchen serve it on sliced heirloom tomatoes speckled with crispy-fried okra, all resting on a shallow pool of their homemade pesto aioli.  But before any of this happens, they lightly cold smoke the burrata, which gives it a flavor that compels one to just.keep.eating.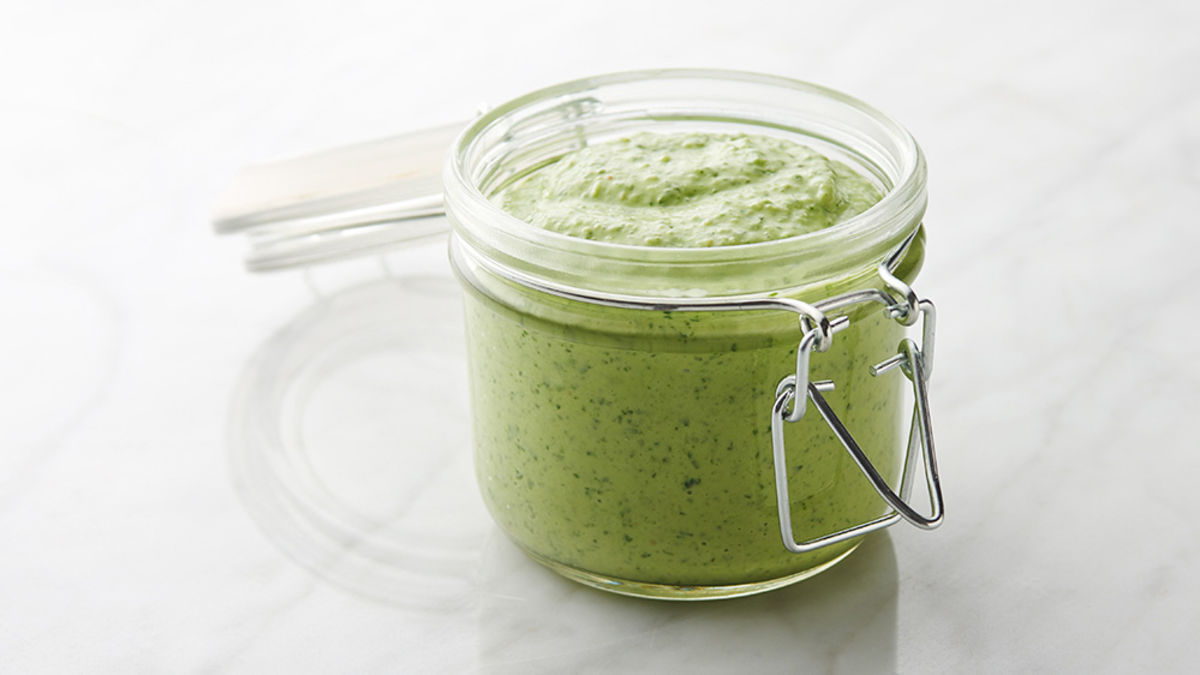 Their pesto is delicious, with a sauce-like consistency.  This makes it much more versatile, and a silky coating for pasta, unlike most, which can be greasy and is prone to separate.
Here is the Kitchen's recipe, sized for home cooks.
Whiskey Kitchen Pesto
1QT packed parsley
1QT packed cilantro
1QT packed basil
1QT packed mint
1Pnt Canola or salad oil
1Pnt Sunflower seeds
4 cloves garlic
1 C lemon juice
2 Tbl lemon zest
3 tsp salt
2.25tsp black pepper
Blend ingredients in blender just until mixed and smooth.
 To make the aioli, the same 2:1 ratio is used with your favorite brand of mayo (we use Duke's)
If you haven't been to downtown Raleigh in a while, very interesting things are happening.  There's unique shopping, museums, and NC legend and lore.  I strongly suggest a trip in the near future that includes a stop at Whiskey Kitchen.
One more tip; I've recently discovered their buttermilk pound cake with cream cheese frosting.  Just one slice could make angels sing.  Even angels on strict diets.
It's totally worth the calories.
Thanks for your time.