On Groundhog Day, people around the world celebrate this very important, very American holiday.
French and Italian schoolchildren draw pictures of giant rodents wearing top hats and driving Cadillacs.  Smoked turkey legs, macaroni salad, and peanut butter & jelly sandwiches are specials on every restaurant menu.  Peruvian grocery stores have sales on Twinkies, mayonnaise, and aerosol cheese.
Japanese college kids wearing "Hug me I'm American" pins get drunk on alcoholic beverages in silver pouches and Budweiser tall boys served in paper bags.  German walk around in cardboard baseball caps and in England, for this one day, biscuits are actually biscuits, and not cookies.  But instead of butter or honey, they smother them with beans.
And, this is how Irish folks feel when they see how we have distorted what traditionally was a pretty low-key feast day for Saint Patrick.  For those readers with little familiarity of the Catholic Church, a feast day doesn't mean a huge meal, it's just a day of remembrance of a particular saint.
And Saint Paddy's isn't even a top tier feast day.  The Catholics rank them, and Saint Paddy is strictly middle of the road.  It's the iceberg lettuce, the 10% off sale, the Val Kilmer Batman of feast days.
 Although there is a legitimate source for drinking yourself silly on March 18.  The day falls smack dab in the middle of Lent, which is a period of self-reflection, and abstinence.  The church though, lifted the Lenten restrictions for the day.
So, party on, Garth.
For the day I have one legit Irish dish, and one recipe that is a complete and total corruption (but a fun, tasty, and easy-to-make abomination).
Classic Colcannon
4 pounds waxy potatoes, peeled and cut into similar sizes
1 yellow onion, chopped
1 head green cabbage, sliced thin
½ cup butter
¾ cup buttermilk
5 slices bacon, cooked until crispy, crumbled
½ cup chopped parsley
Little pinch of freshly grated nutmeg
Salt & pepper to taste (so taste, please)
Put spuds in large pot cover with heavily salted water.  Cook on medium high until fork-tender.  While potatoes cook, melt butter in large skillet on medium.  Put cabbage and onion into skillet and cover.  Let veg wilt down and release liquid, then uncover and cook until they're lightly golden.  Remove from heat and set aside.
When potatoes are cooked, drain, then return to pot.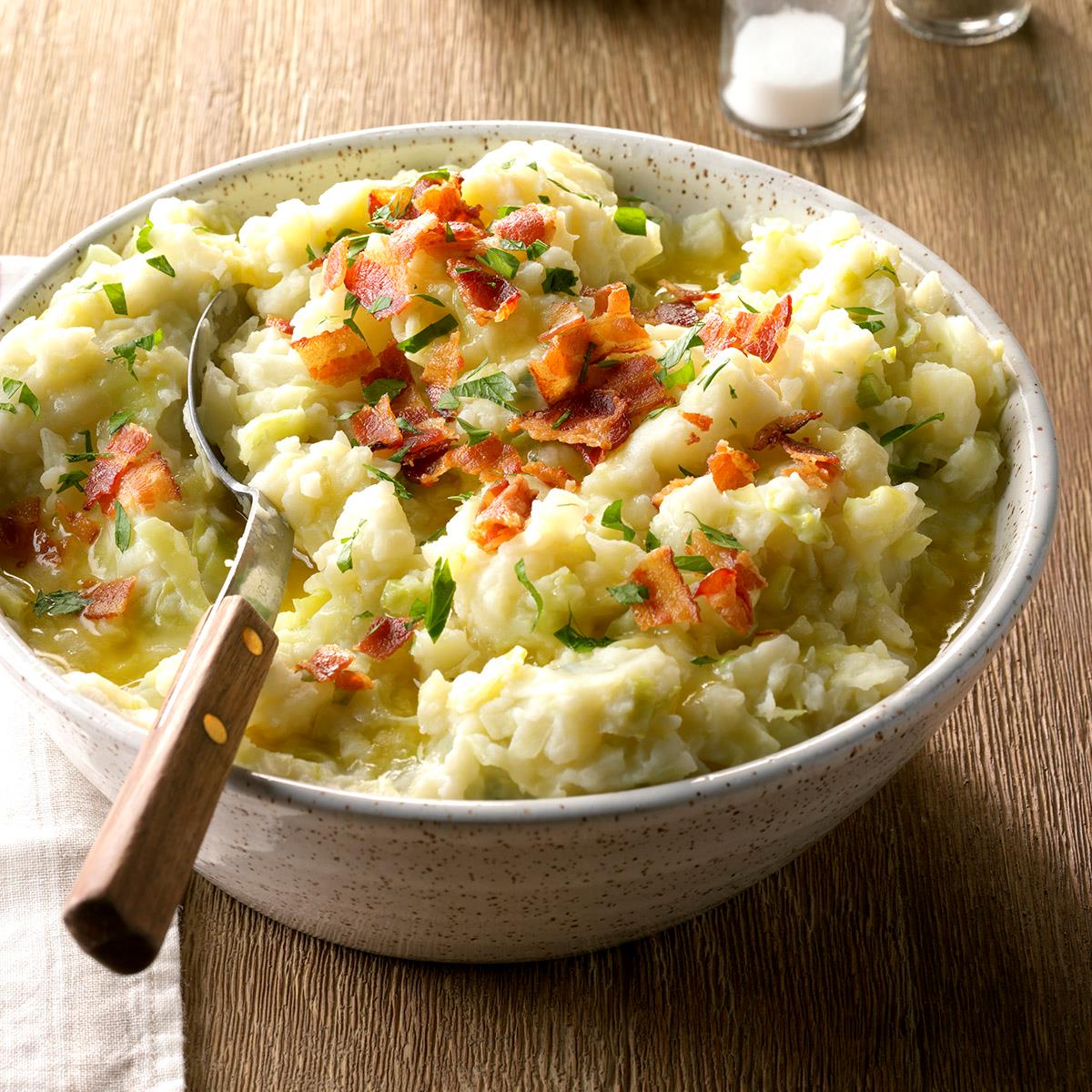 Pour butter and vegetables over the potatoes, add nutmeg.  Mash with potato masher until mostly smooth.  Stir in buttermilk, a little at a time, until mashed potato smoothness.  Season, taste and re-season, if necessary.   Plate on large platter.  Sprinkle bacon and parsley on top.  Serves 8. 
And now, for an absolutely ridiculous, but totally yummy faux Irish treat (I don't even think they sell Lucky Charms in Ireland…).
Lucky Rice Krispy Treats
3 cups Rice Krispies
3 cups Lucky Charms cereal
2-16-ounce bags of marshmallows
1 stick (1/2 cup) butter
1 tablespoon vanilla
2-3 drops green food coloring
Big pinch salt
Place butter into a large heavy pot and add marshmallows, vanilla, salt, and green food color.  With heat on medium, stir until the marshmallows are melted.
Pour Rice Krispies and Lucky Charms into the melted marshmallows and gently stir until it's combined.  Pour into greased 9X13 dish, smooth top.  Let cool (approx. 2 hours) before slicing.
I don't think anybody really minds that once it crossed the Atlantic, St. Pat's Day has become a little "different".  It's just kind of interesting.
Now, if you'll excuse me, I want to get a jump on my Arbor Day shopping.
Thanks for your time.