The Kid calls them Shearon Harris potatoes.
It's not because they're grown in the shadow of that nuclear power plant and set off Geiger counters, but because the baking potatoes at Carlie C's are huge.  Just one of these puppies could make fries for everybody at Woodstock, or enough Vodka to get all of Moscow gloriously snockered, or if hollowed out, become a charming two-story starter home.
A couple times a month I bake two of these colossal tubers for Petey and me for supper. Sometimes I'll switch it up for myself with their equally monstrous sweet potato.
It's a cheap meal.  For a couple dollars, I can purchase a large amount of hearty comfort food, which we can dress to our own desires.
Nutritionally, you could do a heck of a lot worse.  In one big'un, you'll get about 90% of your RDA (recommended daily allowance) of vitamin C, around 50% of your potassium, and 30% of both B6 and fiber.  A nice, healthy portion of iron and calcium are also present.  Plus, undressed, they're fat-, sodium- and cholesterol-free.  And a sweet potato is even more nutrient-dense than its pale associate.
But tragically, many folks ruin the dining experience by failing to get the very best out of them.
The addition of fat and seasoning is the threshold of flavor.  But handled well, they can be so much more than not awful.  The starting point for well-baked is insuring they're baked well.
If you just wrap your tater in foil, they will steam.  This can be tasty, but it is in no way a "baked" potato.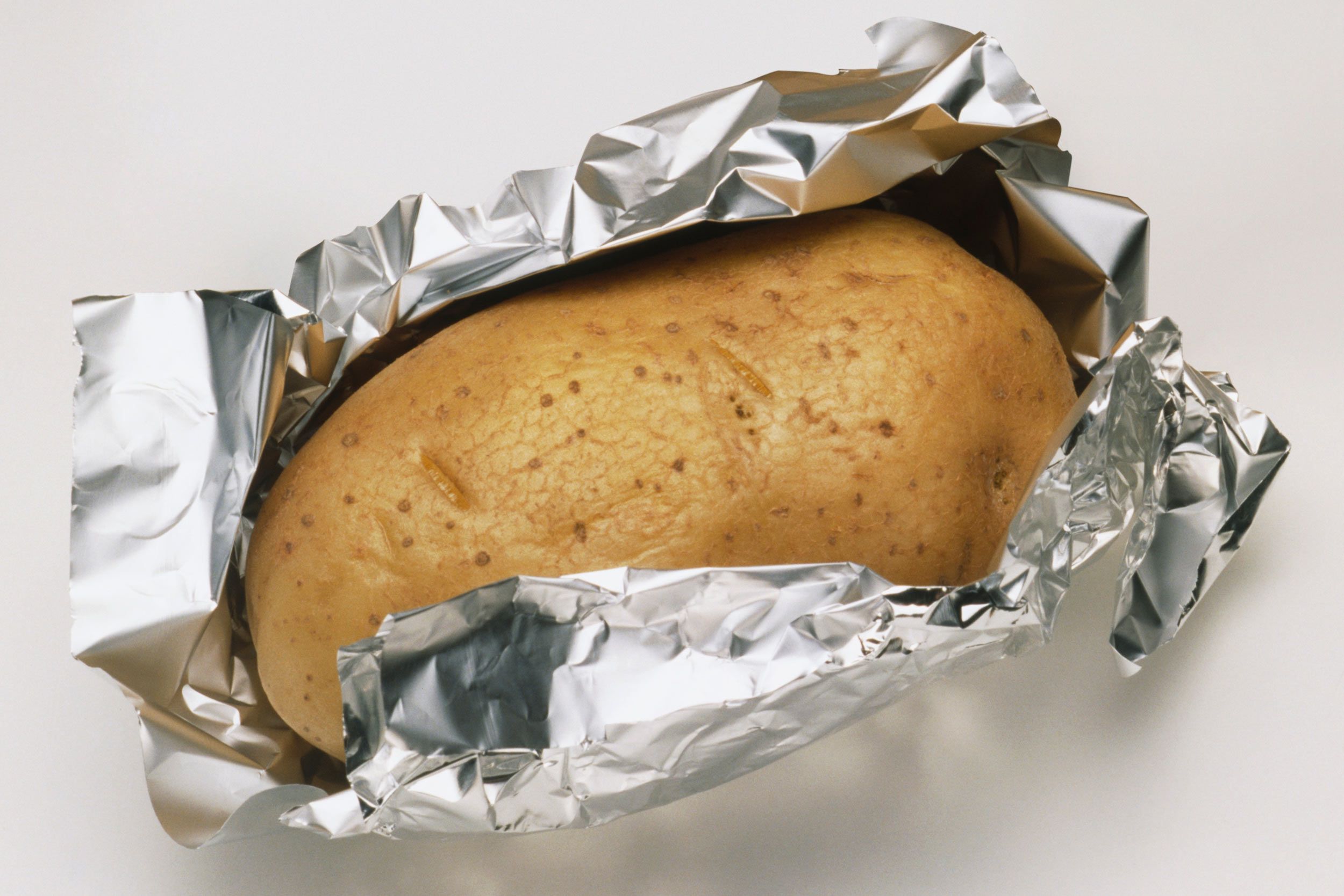 First, set the oven to 350 degrees. Then clean them.  I scrub mine under warm running water using only my hands and a drop of dish detergent.  They're grown underground, so they need to be well-cleaned.  Just make sure every last lick of soap is rinsed away.
Then dry and poke a few shallow holes in them.  You really just need to puncture the skin.  To cut down on mess during cooking, you need some type of drip tray.  Make a very shallow sided, thin vessel with tin foil; just fold and manipulate it until it resembles the lid of a shoe box.  Put your foil boat on a rimless sheet pan, and set in the taters.
At this point you want to prepare the skin for the oven, and flavor it.  A little bit of fat will crisp the skin and allow the flavoring component to stick.  Any kind of fat will work, except things like olive, truffle, or toasted sesame oil, because the long bake will impart a bitter taste and unappetizing aroma.
Now dust the potato with a couple teaspoons of a seasoning mixture.  I like coffee salt and freshly cracked pepper, and Petey likes adobo seasoning—really any flavor that makes you happy.  Then massage those herbs/spices all over the outside.
When it's time to bake, set the sheet pan on the oven rack, then slide it out from under the foil boat and remove.  Bake about 45 minutes, then flip the potatoes over and bake 45 more.  This is usually long enough to cook all but the very largest spuds, so if you've got a couple honkers, give 'em a poke with a paring knife at 90 minutes to make sure they're cooked through.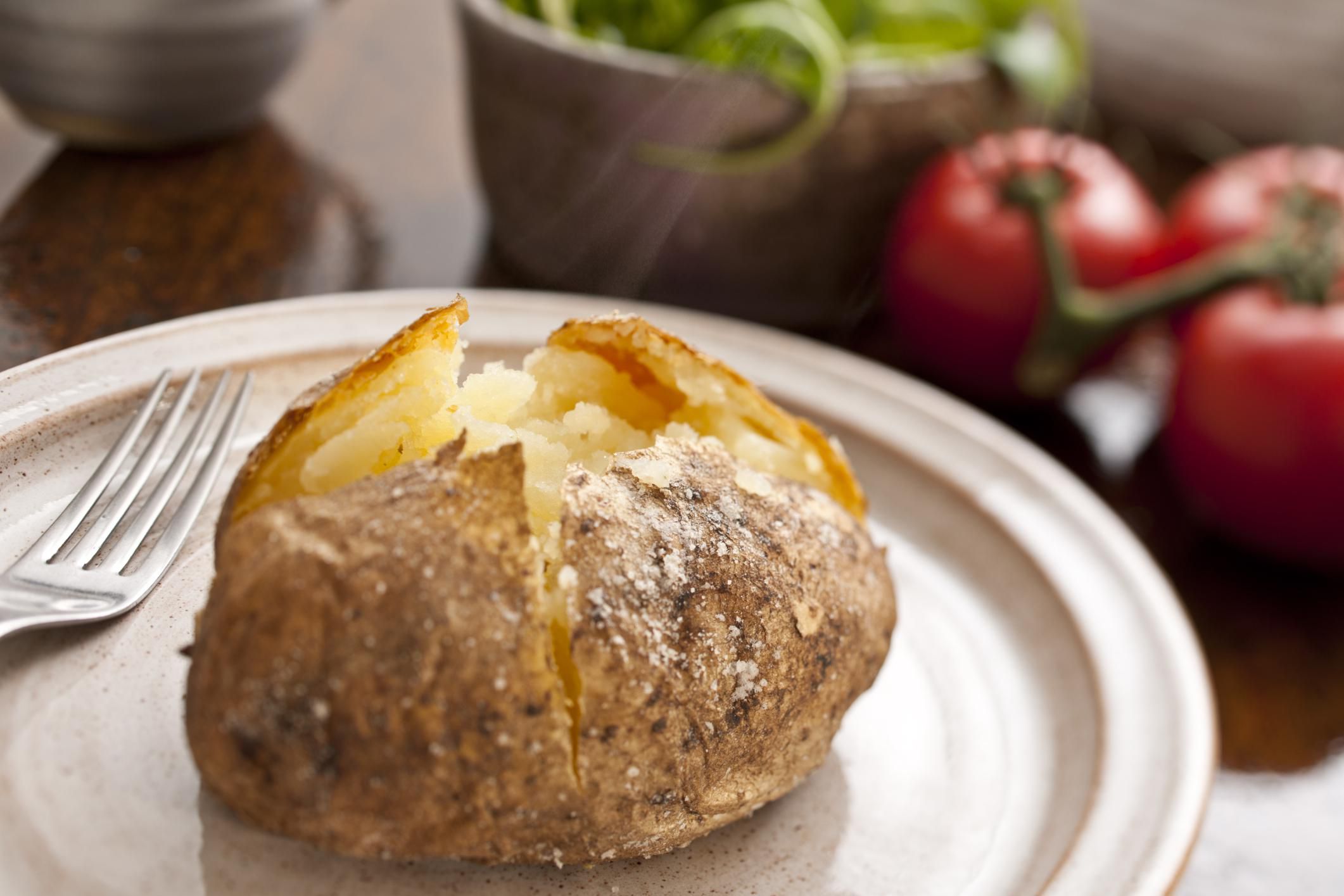 The plan with this column was to give you some interesting topping ideas for your well-cooked taters.
I think we're gonna have to cover that in this space next week.
Who would ever have thunk that I could be long-winded?
Thanks for your time.