Cumulatively, in my entire life, I don't think I have been thanked as much as I was yesterday afternoon.
I hung out with Maxie, one of my oldest friends.  We met in high school.  Doing the math yesterday, we realized we've been friends for thirty-seven years.  He is basically the nicest guy on the planet–I've never even seen him cranky.
Maxie and his husband Mark were at Durham Pride.  Pride is a weekend of activities celebrating, advocating, and supporting the LGBT community.  Through their church, Calvary United Methodist, they would hand out bottles of water to parade participants.  I joined them.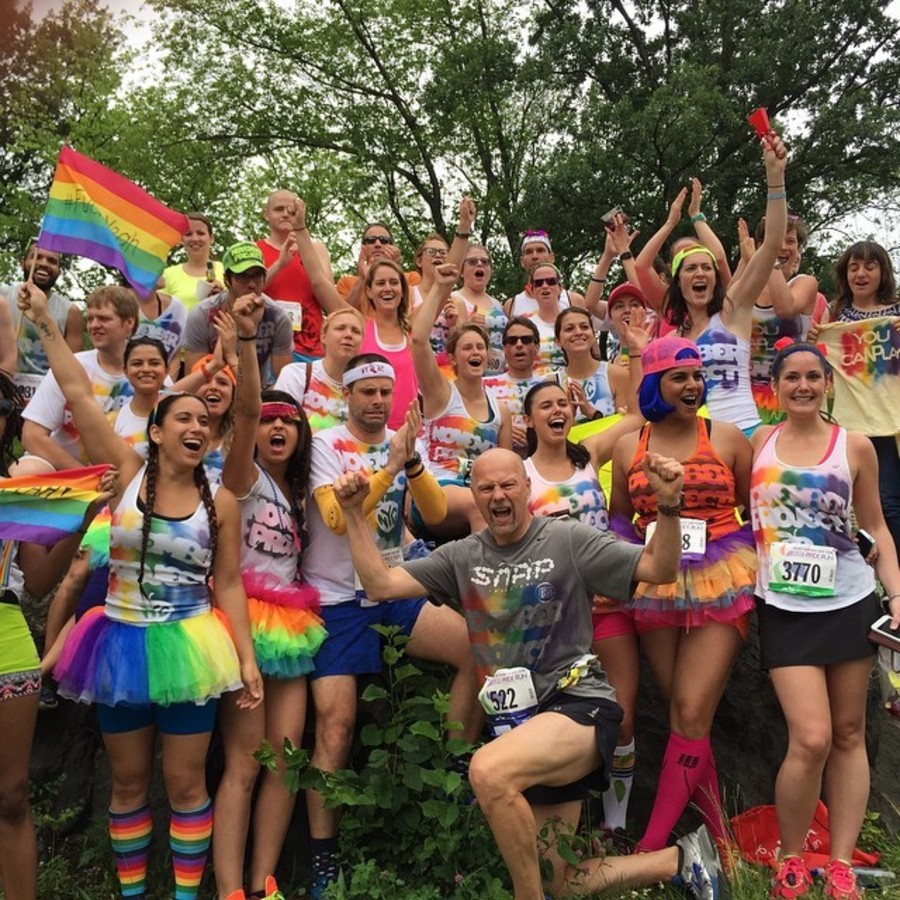 How to describe the scene?  Well, imagine if colors, glitter, and feathers had rained from the sky, and this rain not only coated everyone, but made everybody it touched into best friends.  The air was thick with love and fun.  It was a grand example of the brotherhood of humanity.  I felt lucky to be there.
But.
In our shade-less spot it was hotter than deep-fried fire.  We were passing out bottles of water as fast as we could.  I've no idea how many bottles went through my sunburned paws, but in return for each and every one I received a giant smile and heart-felt thanks.
We ran out at least twice, and volunteers made a run to Harris Teeter.  By the end, 2100 bottles had been handed out.  And I had a blast.
Afterward, the three of us were famished, so we walked up to Dane's Place (754 9th St) for lunch.  Everybody ordered cheeseburgers, and nobody was disappointed.  They have about twenty possible toppings, so our every whim was satisfied.  I had cheddar, grilled onions, and tomatoes, slathered with way too much mayo, just the way I like it.  They also have a really good fountain Coke, and the best tater tots in town.
After lunch, I ran a couple of errands on the way home.  First I hit Whole Foods.  After that meal there was no way I was making a big dinner for Petey and myself, so I picked up one of my spouse's favorite dinners from their grab and go section.
That man loves Whole Foods burritos.  His traditional fave has been chicken adobo.  But recently it's been AWOL and in its place they've had chicken mole.  Mole's a complex sauce with seeds, nuts, spices, and usually some unsweetened chocolate.  From the way he devoured it, I don't think he misses the adobo one bit.
After that stop I was starting to hanker for chocolate.  Since I calculated that during my stint as water girl I'd worked off forty or fifty pounds, I headed to one of my favorite stops for sweet self-indulgences; Parker and Otis.
Luckily for my waistline, fate had different plans.
They had many gorgeous, delicious-looking treats on offer (six kinds of cupcakes, blondies, brownies, and assorted cookies), but they also had my favorite P&O summer-time treat: fresh corn and tomato salad.  They cut the fresh corn off the cob in big pieces and mix it with assorted small tomatoes, red onion, and parsley, all tossed in a simple oil and vinegar dressing.  Instead of sweets, I bought a half pound of summer salad.  But I could happily eat a bucket of it.
While I was waiting for the salad to be packaged, I wandered around their autumn and Halloween displays.  Store owner Jennings Brody has curated a seasonal collection which includes everything from mallow pumpkins (my personal favorite) to very exclusive hand-crafted chocolates. If you need a dose of either sweets or fall inspiration, Parker & Otis is one of the best spots in Durham.  Regardless of the temperature outside, you'll leave with the rustle of fallen leaves in your head, and the desire for a cozy sweater to wrap around your shoulders.
So, although yesterday was an entirely new experience and one of the most fun days I've had in a long time, it was also a typical day in Durham.
Because even though Pride is only one weekend each September, our Bull City is an off-beat, charming mix of diversity, acceptance, and friendship, with a generous helping of delicious, unique food every single day of the year.
Thanks for your time.