Three years ago Southern Living magazine named Durham "The South's tastiest Town".  With food trucks, restaurants that run the culinary gamut from Elmo's (776 9th St) to Revolution (107 W Main St), and hotels both new and acclaimed, like the Washington Duke (3001 Cameron Blvd) and 21c Museum (111 Corcoran St), the Bull City has the food thing locked up.
But in April we get a new food-based feather in our cap.
For the first time, from April 18-21, the Got to Be NC Competition Dining Series will be holding battles here; at Bay 7 in the American Tobacco Campus (318 Blackwell St).
In a bracket challenge similar to the NCAA basketball championship, area chefs will compete in multiple cities, culminating in the Battle of the Champions in October, at a location which will be announced later.
The rules are exciting, as well as delicious.  Each round will be two chefs and their team competing head to head.  The teams will face off and prepare three course meals centered on a theme ingredient that remains under wraps until the morning of the bout.  Each ingredient comes from a North Carolina farmer or artisan producer.
Normally each team consists of a local chef and their team.  In the past the teams all came from the same kitchen.  But this year there's a twist; the teams may consist of chefs from three different establishments.  What this means for the diner is that a team could turn out three courses each of which has been spearheaded by an award-winning executive chef.
I think that just upped the game a tad.
But it won't only be a panel of judges that benefit from this game.  Ticketed guests dine on the six-course meal that is produced.  Then without knowing who produced which plate, and using an interactive app, diners and judges vote, deciding who moves on, and who goes home.
The competition starts in Durham, then moves on to Winston-Salem, Greensboro, Raleigh, Charlotte and Wilmington before the Final battle of the champs.
Competitors must be currently employed food professionals.  The participants were chosen on March 10th, and will be announced soon.  If you're interested in attending, get more information and purchase your tickets at competitiondining.com.
Last week I visited a foodery owned by one of our illustrious Bull City chefs.  I dropped into Nana Taco (2512 University Dr), for a trunk-full of takeout grub.  It's the brainchild of Scott Howell, also owner of Nana's (2514 University Dr) and the newly opened Nanasteak (345 Blackwell St).
Petey got one of their ginormous quesadillas with pork butt.  The Kid and I each availed ourselves to the three taco deal.  For around $7.25 (depending on which meats you choose), we got three tacos, rice, beans, and chips.  I always get at least one made with the tender and unctuous garlic beef.  Then I chose from the "dirty meat" category; exotic cuts and critters like duck and lamb.  My child and I dined on pork belly and hog jowl.  The cheek was the best of the three, but they were all heart-breakingly scrumptious.
As always we ordered extra rice and what I believe are the best pinto beans in town.  And although they always have an imaginative selection of beers, I sipped on a pink lemonade while Petey and I watched the end of the first round of the ACC tourney before heading home.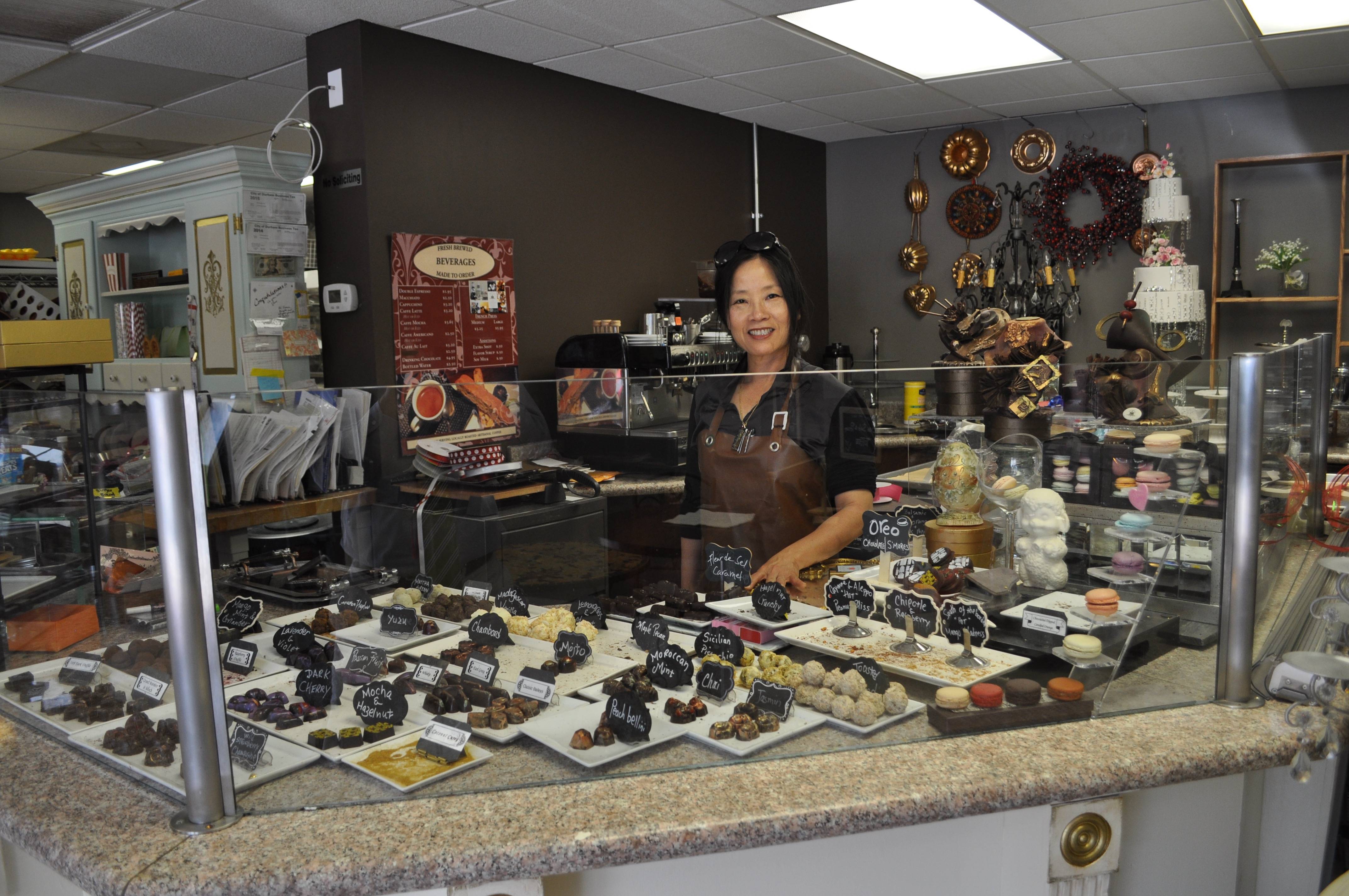 I picked up dessert across the street at Miele Bon Bons.  It's a bakery/candy shop with everything from wedding cakes to French macarons and out-of-the box chocolates.  I left with eight pieces. Out of many varieties of macarons, I picked crème brule, salted caramel, and pistachio macarons (my favorite).  The candies I purchased were dark chocolate salted caramel, blood orange-balsamic-pink peppercorn, and an Earl Grey confection.  It all came to around twenty dollars, which is a terrific deal for fancy hand-made chocolates.  For the price, it's a delightful, affordable, every-day luxury.
Durham is a real happening place.  With culinary special events and our local independent food businesses, we are all pretty darn lucky.
Here's an idea: on your next day off, plan a day trip—in your own hometown.
Thanks for your time.