When I was thinking about this column about the state fair, I planned on talking about all the crazy deep-fried stuff by making up a list of foods that they don't fry—as a joke.
There's only one problem with that strategy; there is nary a food that somebody hasn't put on a stick, and thrown into hot fat.
So, here's what I came up with:
Have you heard of the new fried items at the state fair this year?  They're doing deep fried ennui, and batter-dipped righteous indignation.  They serve them in a cone with modesty dipping sauce, and a sarcastic drizzle.
I don't know—funny?  Or just weird?
But gosh, I do love the state fair; everything about it.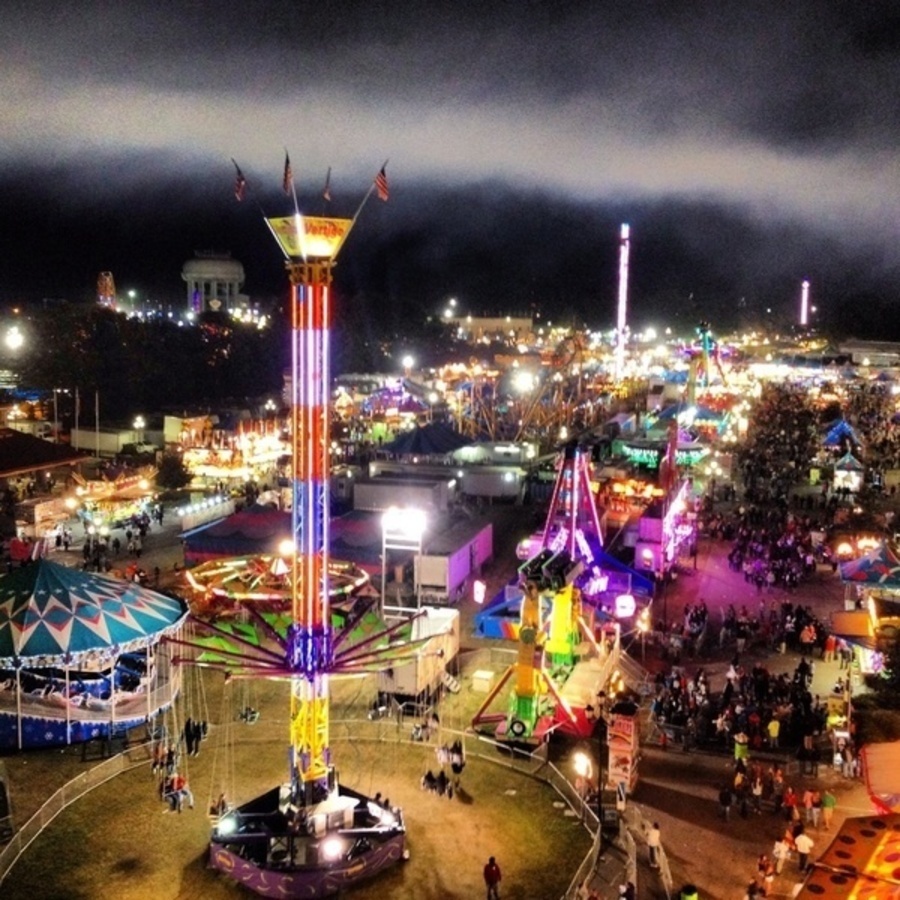 I love the fact that you can people watch, and see every type of human that North Carolina has to offer.  I love all the disparate groups that show up to advocate for themselves (and the free stuff they hand out).  I love that fact that because it happens in October, there's usually a nip in the air that's a harbinger of cooler things to come.
And, slap my mouth and call me Sadie, I love the food.
Every year, my absolute must-haves are Al's fries, root beer in those behemoth aluminum tankards, and fudge.  But the fudge can only be from All-American Fudge.  No other will do.  I buy as much as I can afford, and my Sherpa Petey will carry without complaint.  Does fudge freeze?
This year, I had the added pleasure of being a judge at one of the many food contests.  It was all kinds of fun, and Lisa Prince (you've probably seen her on WRAL's noon news, serving up NC grub), specialist for the North Carolina Department of Agriculture and Consumer Services, her fellow ag folk, as well as my fellow judges, were funny, kind, and took very good care of this tenderfoot.
Lisa's been sending me all the winning recipes for each category this year.  One that sounds really tasty was the winner for House-Autry mills "Kiss My Grits" contest.  They carry a line of dinner grits; of which I heartily approve.
This dish is the brainchild of Mary Boury of Raleigh.
Cheesy BLT Grits Cakes
1 cup House-Autry Mills yellow stone ground grits
2 cups water
1 cup half & half
12 slices bacon, cooked crisp and crumbled
1 cup shredded pepper jack cheese
½ tsp. hot sauce
1 egg, beaten
2 tsp. water
1 cup Panko
Vegetable oil
Arugula
6 Sliced Tomatoes
3 Tablespoons spicy mayo
1 Tablespoon half and half
Combine grits, 2 cups water and half and half in a medium size pot and cook according to package directions.  Then stir in 6 slices of crumbled bacon, pepper jack cheese and hot sauce.  Spread into a 9 x 9 baking dish and refrigerate overnight.
Cut grits into 6 circles. Combine beaten egg with 2 tsp. of water.  Dip the grit cakes into the egg mixture and then into the panko crumbs on both sides.
Fill medium frying pan with enough oil to cover the bottom. Fry grit cakes until crisp and brown.
Combine spicy mayo with 1 Tablespoon of half and half.
Serve on a bed of arugula. Top each grit cake with a sliced tomato, crisp bacon and a drizzle of the spicy chipotle mayo.
So go, hie thee to the fair.  And if a tall, dark-haired, enraptured, woman stumbles past, mindlessly devouring fries, or guzzling root beer, say hi, it's probably me.
Thanks for your time.