I'm not terribly proud of this fact, but I respond just like Pavlov's pooch.
In magazines, online, or TV; show me some type of carb with a creamy-looking dressing and I'm stopped dead in my tracks.
I guess that's what they mean by food porn because that first glimpse has the power to pause me like a video game.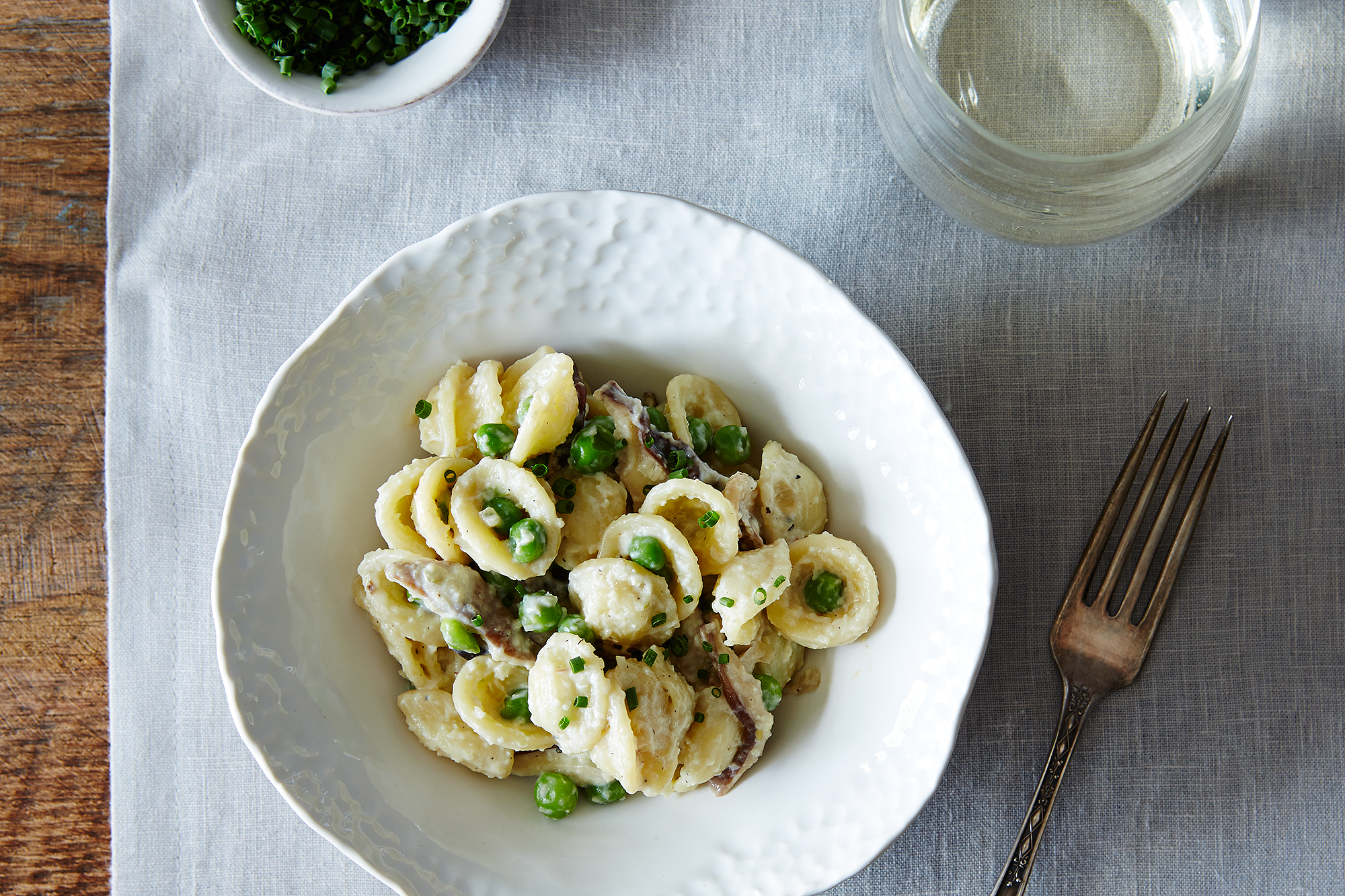 When I worked at my friend Bosco's bookstore, there was a salad bar restaurant nearby.  For one price you'd get access to salad fixings, ready-made dishes, soup, a potato bar, bread and dessert.
I'd eat there every few weeks.  They had delicious homemade ranch dressing, so I'd make a spinach salad and add rotini pasta.
They also had this really yummy pre-made pasta salad.
It was made with fettuccine noodles, which is pretty unusual in itself.  But the other ingredients were a combination of things I'd never eaten in a pasta salad before.
When I was a kid, back when our nation was young, I hadn't yet made the acquaintance of salad bars.  So I'd never even seen pasta salad.  My mother and her sisters made something similar, but it was called 'macaroni salad'.
This was elbow macaroni made one of two ways.  Either a tuna and mayonnaise version (which is actually pretty darn good), or made like my mother's potato salad only subbing in elbow; hard-boiled eggs, onion, and mayo.  Sometimes, if somebody was feeling culinarily adventurous, they'd toss chopped onions into the tuna fish mac salad.
But back to that restaurant's salad.   In addition to fettuccine, it also had corn and garlic-Parmesan dressing.  I made it a few times just like that.  But as I became a more experienced cook, I turned it into a celebration of summer.  I now use cavatappi because it's easier with which to work (plus it's adorable).
Summer corn and pasta salad
Salad ingredients:
½ pound cavatappi (corkscrew) pasta, cooked al dente
4 ears fresh white summer corn, like Silver Queen or similar, shucked
1 pint cherry or grape tomatoes
5 or 6 green onions
5 pieces of bacon or pancetta, cooked crisp and crumbled.  Reserve 1 tablespoon fat from cooking.
Dressing:
Corn juice
1 tablespoon pork fat
3 cloves garlic, sliced
1 cup mayonnaise
½ cup grated Parmesan cheese
Juice and zest of 1 large lemon or 2 small
Handful of fresh parsley, chopped, with 2 teaspoons reserved.
Salt and pepper
Grill corn and green onions, either in grill pan or outside on barbecue.  Cut corn off cob, reserving corn juice for the dressing.  Chop grilled green onions.  Slice tomatoes in half. 
Toss pasta, corn, tomatoes, and green onions together.  Set aside.
Place reserved tablespoon of pork fat and garlic into small skillet.  Cook on medium until garlic is lightly golden.  Remove from heat, leaving garlic in pan, and allow to cool.  Once cooled, discard garlic.
Whisk together corn juice, garlic-infused fat, mayonnaise, cheese, lemon juice and zest, and parsley.  Add salt and pepper, and taste for seasoning.
Refrigerate for 1 hour.
After 1 hour, toss salad with dressing (you probably won't need all of the dressing).  Let sit at room temp for 20-30 minutes.  Immediately before serving, fold in bacon.  Garnish with a sprinkling of parsley.  Serves 6.
My weakness for creamy pasta dishes is dreadfully ridiculous.  If I'd been Teddy Roosevelt, instead of doing any charging, I would have been sitting in the shade at the foot of San Juan Hill tucking into a bowl of macaroni salad.
Thanks for your time.