I contemplated, Gentle Reader, opening this post with an apology.
The potential source of my remorse is the subject of this week's column.
It's my favorite food: potato salad.
Just a few weeks ago I wrote about lemon potato salad.  That recipe is an adaptation of the potato salad served in a Greensboro deli.  It's perfect for spring.
But this one's quite different.
Sometimes an idea will come to me, and I'll think it's the smartest, most original notion ever thunk.  Then, I'll google it, and realize that I am at least the seven millionth brain to have come up with this brilliant thought.
Curse you, Google!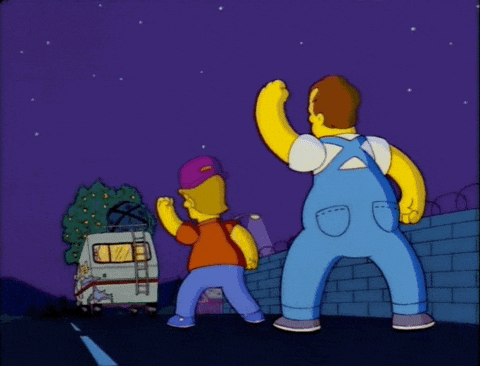 This week's a potato salad that I recently came up with.  I fully expected this new recipe to be new to me alone.  I figured that once again, my brainstorm would be instead, a disappointing drizzle.
But a quick google returned no results.  It looks to me at least, that this is actually a new idea.  The potato salad that I can't believe is really a new idea, Gentle Reader, is…
Pimento cheese potato salad.
You can boil up some spuds, and stir in some store-bought pimento cheese, and it'll be fine.  But to really make it special, make it all from scratch.  If there are few elements in a recipe, use the best ones you can find.
So, let's make some stuff from scratch.
Pimento Potato Salad
Pimento cheese:
*This recipe will make about twice the amount you need, but to make it in a smaller quantity just doesn't work quite right.
4 cups sharp (black wax wrapped) hoop cheese *If you can't get your hands on hoop cheese, get the oldest sharpest cheddar available in your area.  You want it to take your breath away, and when you eat it, have a little crystallization at the finish.
1 4-ounce jar of pimentos
½ cup mayonnaise; either homemade or your favorite store-bought
Salt and pepper
Shred cheese on the large holes.  Drain pimentos, reserving liquid. 
Put shredded cheese and pimentos into a bowl.  Add mayo and fold together, adding pimento juice as needed to get to a smooth, spreadable consistency.
Season, taste, and season again if necessary.  Refrigerate for at least 2 hours to overnight to develop flavors.
*Potato Portion
6-8 medium-large sized Yukon gold potatoes (2 ½-3 pounds)
¼ cup vinegar
¼ cup kosher salt
Fill a very large, heavy pot with water.  Add vinegar and salt.  Put in potatoes and turn on medium-high.  Cook until fork slides in easily.  Drain, and cool completely.
When cooled, peel and cut into salad-sized chunks.
*Salad Preparation
2 tablespoons olive oil
2 tablespoons snipped Chinese chives (also called garlic chives—use regular chives if you can't find them)
2-3 tablespoons fresh chopped parsley
Put potatoes into a bowl with chives.  Put in olive oil and season with a big pinch of salt and pepper.  Add parsley, holding back just a little for garnish.  Gently mix together.  Taste and re-season is needed.
Add about ½ cup of pimento cheese and stir.  Add more as needed until ingredients are liberally coated with pimento cheese.  Sprinkle with parsley.
Let sit covered at room temperature 30 minutes before service.  Serves 6-ish.
This goes really well with Southern summer food, like fried chicken or catfish.  It also works with bratwurst or grilled Italian sausage.  It's pretty and tasty to serve this on a bed of lightly dressed greens or topped with a big handful of microgreens.  And to be really unique, instead of Yukon gold, use sweet potatoes instead, or combo of both.  Just peel and cut up sweets before boiling.
I hope you like this new idea about potato salad.  And I trust you now know why I didn't apologize for two potato salad recipes this close together.
Because potato salad means never having to say you're sorry.
Thanks for your time.