This week, the essay has been hijacked by The Kid's new chili recipe.
We both hope you like the recipe.  It's in my spawn's own words and singular style.
The Kid's Chili
–              About 3lbs of beef cut into 1-1 ½in cubes (I used a mix of chuck roast and Denver steaks as that was what was on sale, but the only hard rule here is to not use stew beef. Stew beef is the little bits and bobs left over when trimming larger cuts, so there's no telling what you'll end up with)
–              6 slices of bacon
–              1lb sausage (I used bratwurst, but this can be subbed for any pork sausage) removed from casing
–              1 12oz dark, high alcohol beer (My favorite is Founder's Breakfast Stout)
–              1qt Chicken stock
–              3 dried Pasilla chilis, torn into 1in pieces, seeds removed
–              3 dried Guajillo chilis, torn into 1in pieces, seeds removed
–              6 cloves garlic, roughly chopped
–              2 poblano peppers with ribs and seeds removed, finely diced,
–              1 yellow onion, medium diced
–              1 12oz can of tomato sauce
–              3 cans of beans, drained and rinsed (I used two cans of great northern beans and a can of kidney beans, but feel free to mix it up.
–              2 cans white hominy, drained and rinsed
–              1 Tbsp tomato paste
–              1 tsp anchovy paste
–              1.5 Tbsp Dark or mushroom soy sauce (Available for cheap at Asian markets, excellent for adding an umami punch to just about everything)
–              2 tsp marmite (Optional but recommended. It will keep forever in the fridge, but also adds a good umami kick)
–              ½ Tbsp Cumin
–              1 tsp Cinnamon
–              1 tsp Garam Masala
–              1 Tbsp Gochujang (Korean chili paste)
–              2-3 bay leaves
–              1 packet Goya Sazon con achiote y culantro
–              Salt and pepper to taste
                Bring chicken stock to a simmer over medium heat, add dried chilies. Simmer until stock has reduced to a third starting volume. Once reduced, blend stock and chilies together until very smooth. Set aside.
               Render bacon on low heat in large dutch oven. Once bacon has fully rendered, remove from pot and set aside. Turn heat up to medium.
               Add sausage to the pot and allow to brown. Once it has some color, remove from pot and set aside. Turn heat up to medium high.
               Once hot, add cubed beef, seasoning with salt and pepper. Sear on all sides. Remove from pot and set aside. Turn heat down to medium low.
               Add onion and garlic, seasoning with salt. Sauté until it begins to turn translucent. Add poblanos, and sauté until soft. Add tomato paste and anchovy paste and stir.
                Add sazon packet, cinnamon, garam masala, and cumin. Cook until pan is mostly dry. Add gochujang and marmite and stir.
               Add beer and dark soy sauce to deglaze pan and bring to a simmer.
               Add tomato sauce and the chili sauce from step one.
               Once at a simmer, add all meat and bay leaves. Turn the heat down to medium low and lid the pot.
               Cook for an hour, stirring occasionally.
               After an hour passes, add in beans and hominy. Since they are fully cooked, there's no need for them to be in there the whole time but adding them an hour in still allows for some flavor absorption.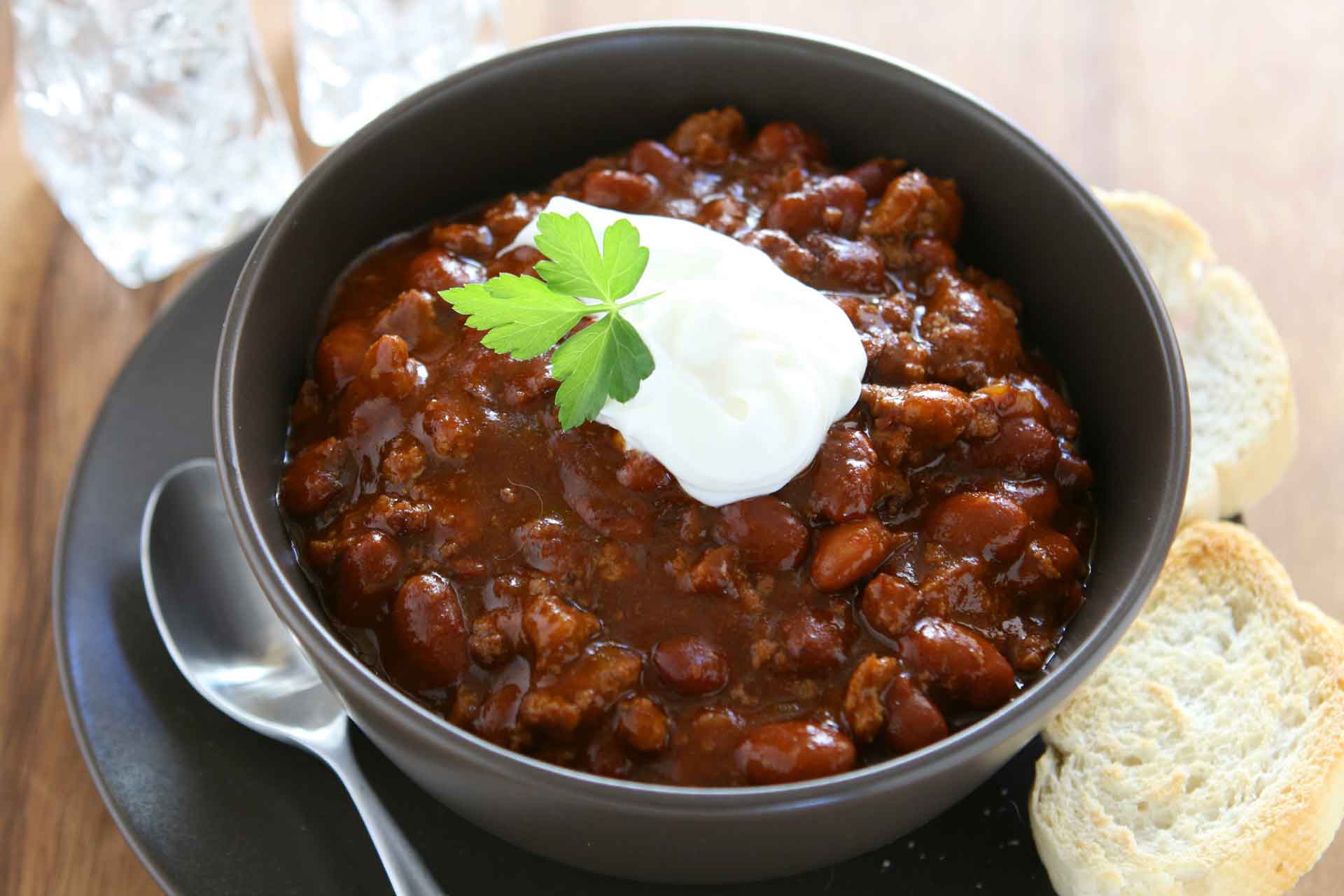 Cook until beef is tender, about 2-3 more hours. Make sure to stir occasionally.
               Either serve immediately with your favorite chili toppings or chill and reheat the next day for best flavor.
Thanks for your time.