So I was watching this BBC show, Torchwood.  It's a Doctor Who spinoff starring John Barrowman, a charming Scottish-American singer/actor/author Renaissance man.
This particular episode was narrated by Eugene, a young man whose death was being investigated.  He kept talking about banana milkshakes.  I started craving my own banana milkshake, but there were two monkey wrenches in the machinery of my desire.
I didn't have any vanilla or banana ice cream, and there's like a million calories in a banana shake.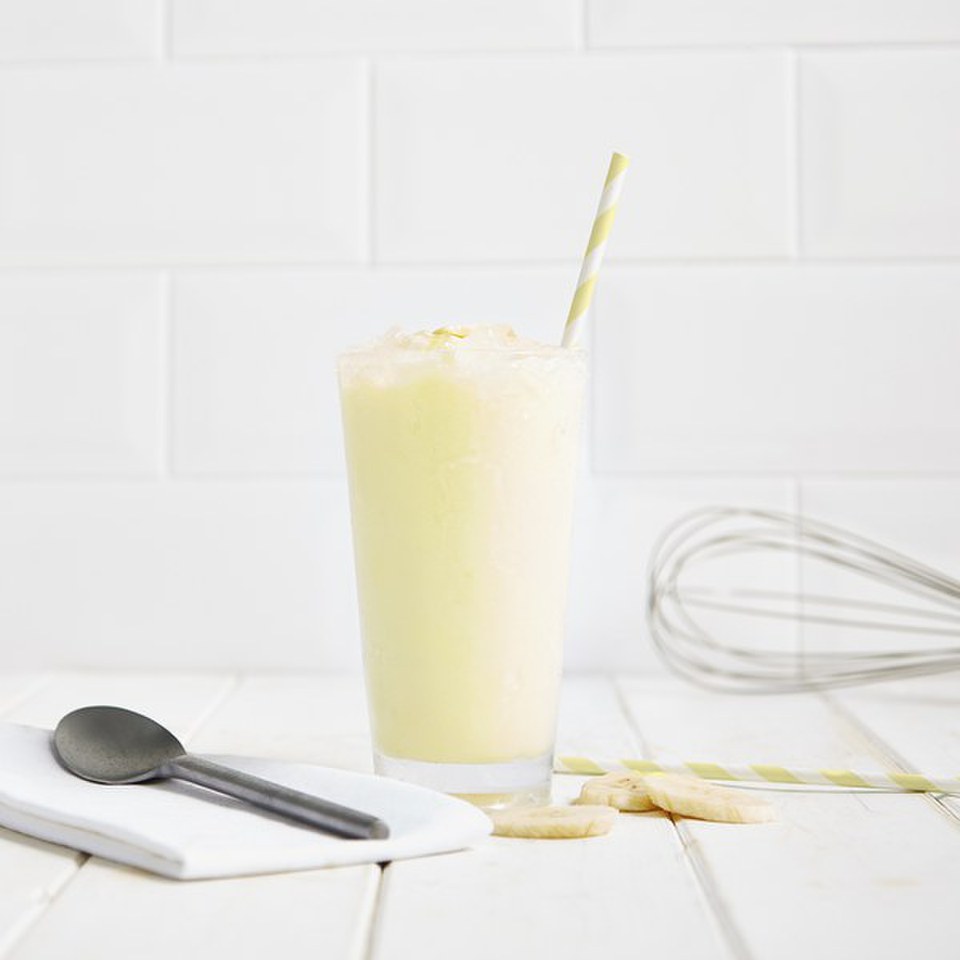 But, I did have 2 bananas in the freezer and I'd read about one or two ingredient "ice cream" with frozen bananas.  I'd even used them along with some buttermilk and frozen pineapple to make a frozen treat.  That had tasted okay, but wasn't delicious, and the texture was odd.  I didn't feel the need to rush out and make it again.
This time I decided to not fool around with ingredient curveballs and go super simple so I'd be able to make an honest judgment.  I'd know if I liked it without wondering if my tinkering had ruined something wonderful or conversely, made dreck delicious.
I'm still me, though.  So I added Hershey's Special Dark cocoa powder.  But aside from a splash of skim milk to facilitate blending, that's all I added, and it was only one tablespoon of cocoa.
I used both bananas, and it turned into a couple cups or so of finished product.
It was insanely delicious.  I've had chocolate-covered frozen bananas before, and while tasty, the fruit is brittle and icy.  This was the texture of perfect soft-serve ice cream.  It was rich and incredibly creamy.  Honest, if I hadn't made it myself, I never would've believed that it wasn't full of butterfat.
Before I knew it, I ate the whole darn bowl.
Wouldn't it be great if you could do the same thing with other fruit?
I don't know if papaya or pomegranate works, but with one little recipe adjustment, pineapple sure does.
The Kid went to Bush Gardens recently and I was jealous.  Petey and I spent our honeymoon at the Williamsburg park.  We're both suckers for nausea-inducing, life-risking rides and I love the corny faux-European theme.
And it might be amusement park grub, but I adore the sausage at the German Festhaus, and the manicotti they serve in Faux-Italy.  They were also the first place on the east coast I knew of that offered churros.
Upon arriving home, the first words out of my child's mouth made me more than jealous.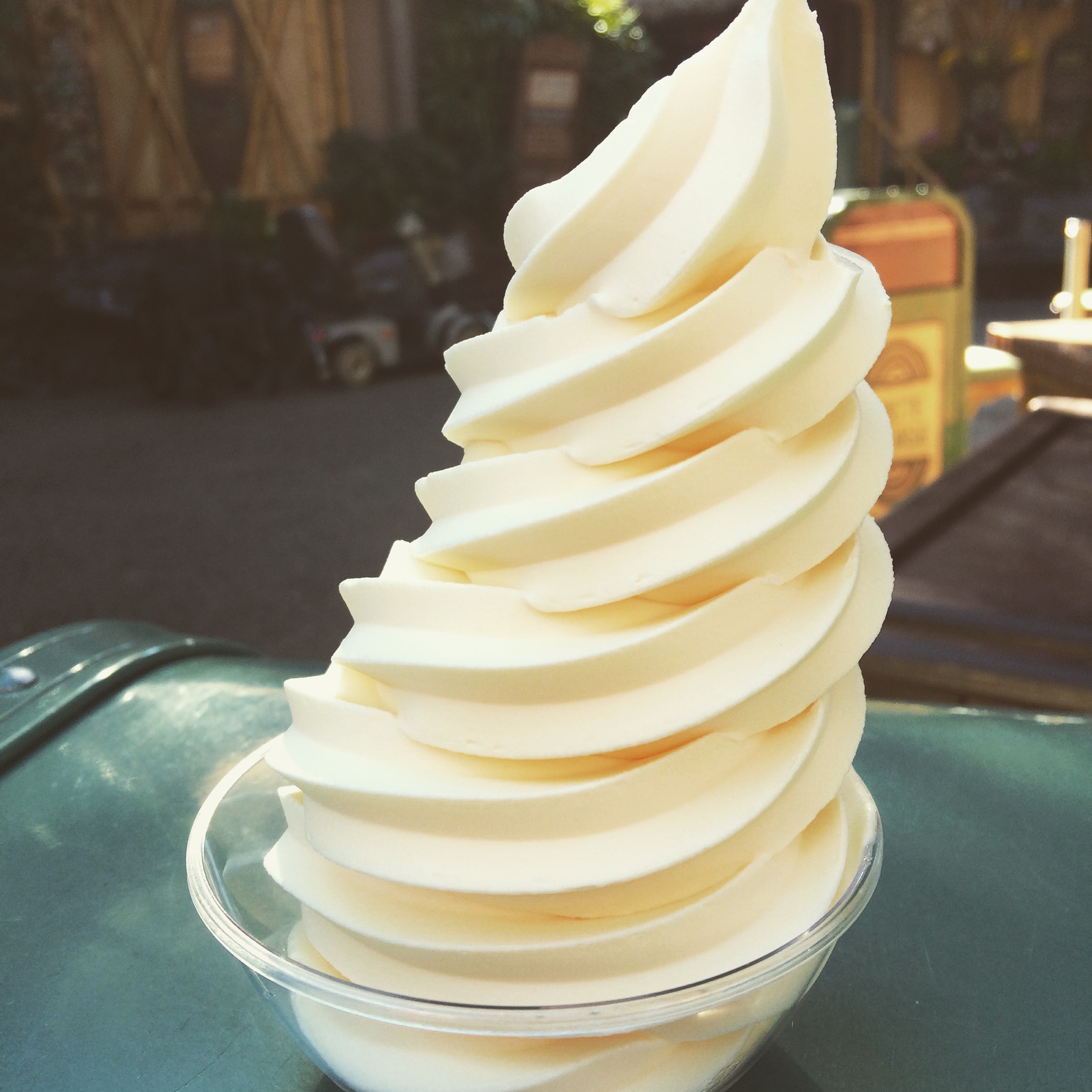 "They have Dole Whip."
Originally sold at Disney parks, Dole Whip is this amazing, creamy, pineapple frozen treat.  You can actually buy bags of pineapple soft serve mix online, but you'll need plenty of storage space—each bag makes a whopping 89 servings.
So, I researched.  Many recipes had all kinds of extraneous ingredients that added tons of fat and/or weird flavors.  I finally found a simple recipe that looked like it might work.
Oh yeah, it worked.  It worked like a charm wearing a horseshoe and carrying a rabbit's foot.  To make it we used rock-hard frozen ingredients and employed a Vitamix blender.  Those beasts could make smoothies out of diamonds, but if you don't have one just let the ingredients sit out for 10-15 minutes.
With these recipes, make it then serve immediately.  It melts quickly and freezing for any length of time will make it too solid to eat.
How much did we love our homemade Dole Whip?  When I reminded The Kid to take the Vitamix home, instead my child left the machine at the house, and volunteered to purchase the fixings for more.
This summer I foresee a whole lot of frozen fruit in my future and hopefully, temporary custody of a Vitamix.
Thanks for your time.
Banana dream
4 bananas, frozen solid
1 teaspoon vanilla extract
Pinch of salt
Enough skim milk to blend
Throw bananas, vanilla and salt into food processor.  Process until smooth adding milk as needed.  Makes 2-4 servings, depending on one's self-control. 
Whipped pineapple
4 cups frozen pineapple chunks
1 8-ounce tub of fat-free whipped topping, frozen
Enough skim milk to make blend-able
Put all ingredients into blender, and blend until smooth.  Serves 4.